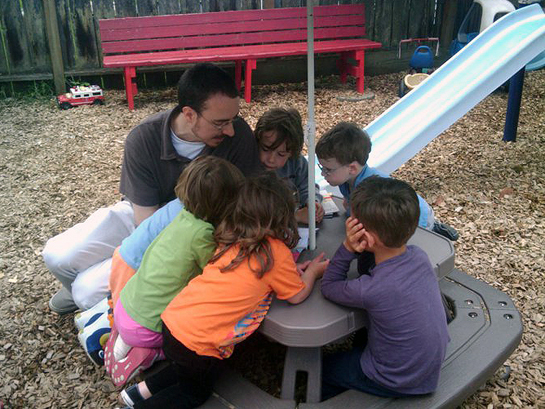 Our Teachers
Our loving and caring teachers have Early Childhood Education backgrounds and degrees, as well as experience with young children. We also have a continuing education program for our teachers, so that they stay current with developments in our field and provide a source of inspiration and fellowship with other educators.
Klaire
Pre-K Teacher (4-5 year olds)
Klaire, originally from Southern California, received her AA in Early Childhood Education and Child Development. In 1998 she started her first full time teaching position while furthering her education in Art and Physics, and fell in love with a world among toddlers. Five years later, after graduation and a solo backpacking trip around Europe, she found her way to the Pacific Northwest, where she found she could explore her artistic, cultural, culinary, social, and musical interests while still enjoying the great outdoors.
As a creator, she loves dabbling in her artwork, getting extravagant with costuming, or whipping up something delicious in the kitchen. She explores cultures by hosting international travelers in her home when not traveling herself. Music is the soundtrack of her life, and she relishes shaking it up on the dance floor or belting out wacky tunes. As a lifelong learner, she is dedicated to ongoing education and advancement in the field. Her slow days are happiest with books, film, hugs, stories, and laughs.
Using these interests to help encourage in children that curiosity and love of learning about themselves, others, and the world around them with a compassionate soul and exuberant enthusiasm is both her passion and delight. She is ecstatic to be teaching at SPCDC, this time on a new adventure in the PreK class with many of the children she's watched grow up over the years.
Diana
Young Pre-K Teacher (3 year olds)
Diana has an AA Degree in Early Childhood Education and has been teaching at SPCDC since 1973. The first eleven years she worked with the toddlers. Her hobbies include carpentry, gardening, bird watching, chocolate, and reading. She values the mountains, the silence of a forest, nature, the poems of Robert Frost, classical music, and the sense of humor and logic of anyone under the age of six. Diana is also in charge of the garden and helps the kids plant and harvest vegetables every year.
Sarah
Toddler Teacher (18 month - 2 year olds)
Sarah, native to Washington, D.C. stepped out on her own after high school and fashioned a life for herself in the PNW's beautiful city of Seattle. Prior to attending university she gathered valuable work experience in early childhood development as a teacher to infants, toddlers, and preschoolers alike. In March 2017, Sarah obtained a B.S. degree in Plant Biology from the University of Washington. While a career in environmental science tempted her, Sarah realized that her heart remains wedded to nurturing the minds of young children, encouraging the blossoming of emotional intelligence, and cultivating a deep appreciation for the natural world in her students. Sarah strives to provide an interdisciplinary approach in her lessons by incorporating her knowledge of music, biology, and the arts.
Outside of the classroom, she enjoys playing guitar and singing, staying active, and breathing in the fresh aroma of cedar trees.
Sarah is full of gratitude for this opportunity to be a supportive guide and witness to the developmental and personal milestones her students achieve.
Paul
Afternoon Teacher
Paul began working in the childcare field in 2009 and has been at SPCDC since 2010. He loves working with children, discovering their interests and helping them in their creative endeavors. When not at SPCDC, he works as a music producer, composing music for albums, television and film. Other interests include traveling, DJ'ing, running, movies, and table tennis.
Danielle
Afternoon Teacher
Danielle comes to us from the UW as a senior in the Early Childhood Education program & pursuing psychology. She's from a very small town in south eastern Washington called Asotin. She loves any activities down by the water like kayaking or canoeing! Her favorite activities to lead with kids are arts and crafts.