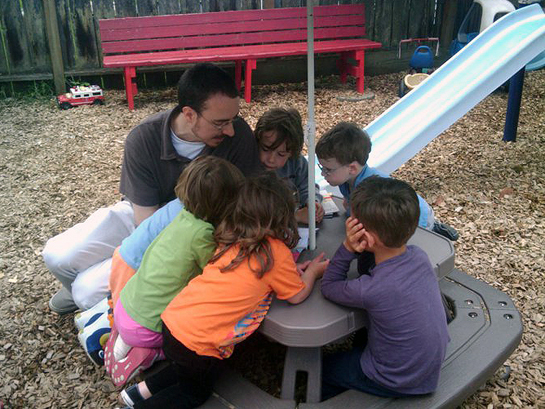 Our Teachers
Our loving and caring teachers have Early Childhood Education backgrounds and degrees, as well as experience with young children. We also have a continuing education program for our teachers, so that they stay current with developments in our field and provide a source of inspiration and fellowship with other educators.
Joanne "Jodie" Morganfield
Pre-K Teacher (4-5 year olds)
Joanne "Jodie" is from northern California. She has her M.A. degree in Early Childhood Education with a specialization in teaching (focusing on K-12). She received a permit from the California Commissions of Teacher Credentialing in 2007. With this permit, one of the areas of focus is developing curriculum. One of the things that she is most proud of is obtaining a certification from UCLA to teach English as a second language. She has taught and tutored children from 3-18 years of age for more than 20 ears. She taught preschool from 2007-2013 for the City Unified School District in California before relocating to the Seattle area. Jodie is a mother of 3 beautiful daughters, two son in-laws and has 5 grandchildren. Her family is the love of her life. She is a life learner. She loves to sew, quilt, draw and is developing a serious passion for karaoke. Her goal is to inspire young children to love learning.
Diana Edgar
Young Pre-K Teacher (3 year olds)
Diana has an AA Degree in Early Childhood Education and has been teaching at SPCDC since 1973. The first eleven years she worked with the toddlers. Her hobbies include carpentry, gardening, bird watching, chocolate, and reading. She values the mountains, the silence of a forest, nature, the poems of Robert Frost, classical music, and the sense of humor and logic of anyone under the age of six. Diana is also in charge of the garden and helps the kids plant and harvest vegetables every year.
Ester "Essy" Kelly
Toddler Teacher (18 month - 2 year olds)
Ester Kelly, aka Essy, was born and raised in Missouri. Essy's mom ran a home day care since Essy was a baby, so child care has always been a part of her life. Starting as a babysitter at the age of 12, Essy has been a babysitter, nanny, day care assistant, preschool teacher, and extremely proud aunt. In 2013, Essy moved to Seattle for adventure and a change from rolling hills and mooing cows. Currently, she is working on the final touches to an AA in early childhood education and hopes to be done by the end of 2016. In teaching, Essy values empathy, compassion, self-reliance, and building strong social-emotional skills. She loves to set up messy activities, singing and improvising songs, and reading boisterously. Outside of teaching, Essy enjoys learning to play new instruments, organizing for her book club, walking through Carkeek Park, cooking, and reading.
Paul Cheever
Afternoon Teacher
Paul began working in the childcare field in 2009 and has been at SPCDC since 2010. He loves working with children, discovering their interests and helping them in their creative endeavors. When not at SPCDC, he works as a music producer, composing music for albums, television and film. Other interests include traveling, DJ'ing, running, movies, and table tennis.
Melissa Walker
Morning Teacher
Melissa has an AA degree in Early Childhood Education from San Juan College, in her hometown of Farmington, New Mexico. She also has a Bachelors of Science in Criminal Justice degree from Portland State University. Growing up, she vowed to never have kids... but following the birth of her first daughter in 2006, she discovered her love of children. She enjoys exploring new things at aquariums, zoos, beaches and wildlife habitats. When not in the classroom, Melissa loves reading anything she can get her hands on, traveling, and spending time with her husband and two daughters. She strives to someday be like her grandmother, who will always be Melissa's favorite person in the whole world.